Incredibly informative content exposing the widely unknown facts between government and citizen, and the experience to protect ourselves from unjust or unconstitutional grey areas that affect the population. I was impressed how he is not driven by a militant energy, but one of freedom and authentic liberty."

–– Aaron (Seminar Student)
Tyranny has hit the world with an unprecedented magnitude. Americans educated in government schools and government subsidized law schools no longer possess the practical knowledge necessary to recognize and challenge unlawful authorities, laws and decrees. Consequently, they easily surrender- as expected by the revenue-hungry State- to the imposition of unlawful citations and fines. Perhaps you have recognized these deficiencies in yourself and you are now searching for principle-based answers to questions such as these:
What are the limits placed upon the authority granted to the Governor, Health Officer, Board of Supervisors, and other public servants?

What are my legal options when a Contract Tracer comes to my door and demands to enter in order to examine my family members?

What do I do when Code Enforcers try to force me to wear an ankle bracelet tracking transmitter and attempt to take my child if I test positive for COVID-19?

If I am unlawfully detained or arrested for violating "Shelter In Place" mandates, how do I make a legal challenge to the rights violations?

Is there a way to buy and sell in America without having to mask-up or take the jab?

How can I overcome the mandate to vaccinate my child in order to attend a government school?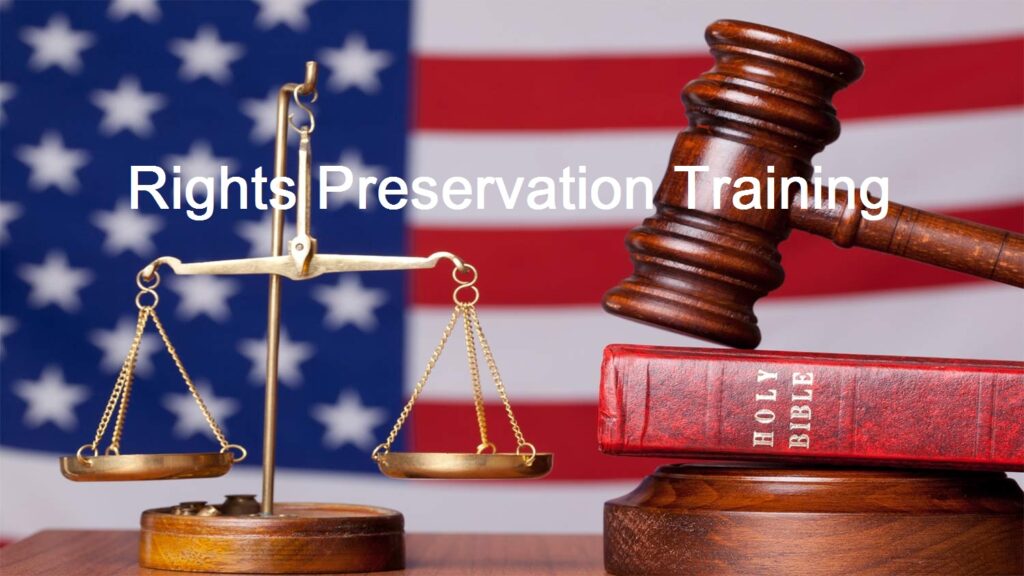 Passage To Liberty delivers live, interactive training to groups of at least thirty people. These intense, six-hour sessions are packed with content and are designed to equip students with the information, mindset, strategies, and skills necessary to face tyrannical attacks, and to launch Constitutional challenges to the rights deprivations, fines and penalties that become commonplace when The People are not vigilent abou keeping government small.
Below is a small sample of the subject matter covered in the full-day Rights Preservation course:
Origin of Rights

Lawful vs. Unlawful Executive Orders

Vital distinctions between rights and privileges

Key players and procedures to engage and avoid when making a Constitutional Challenge

Real-life examples of legal victories using the Constitutional Challenge method

Smart tactics to employ before, during, and after an enforcement encounter that greatly increase the odds of winning a legal challenge
Our next class is being held in June of 2023. The cost for 6 hours of live, interactive instruction is $199. Those who pre-register at least 3 weeks in advance will receive a C.D.  or free download of Passage To Liberty's Freedom Library containing hundreds of essential legal resources.
The exact date, time and location will be announced once a venue large enough to accommodate the enrollment numbers is secured. If we can't secure a large enough mask-free, vax-free venue, we'll provide the course virtually.
Simply sign-up here to be notified. Payment will be due within 5 business days of the event.
"I thought it was thoroughly fascinating. There are a lot of options out there that people do not know about.  The more people know about this the less likely we are to be abused by the police. You need to go to the seminar."

–– Reed