The individual may stand upon his Constitutional Rights as a Citizen. He is entitled to carry on his private business in his own way. His power to contract is unlimited. He owes no duty to the State or to his neighbors to divulge his business, or to open his doors to investigation, so far as it may tend to incriminate him. He owes no such duty to the State, since he receives nothing there from, beyond the protection of his life, liberty, and property."

– Hale v. Hinkel, 201 US 43, 74-75 [U.S. Supreme Court (1906)]
In 2020 tyranny was invoked by governments worldwide under the guise of protecting the public health from a "pandemic". Treating unlawful Executive Orders as if they are laws that apply to the common man, health officers at the state, county and local levels have issued mandates, decrees and guidelines that constantly change based upon the whims of the officer or enforcer. Consequently, entrepreneurs are coming to realize that the scam is really about using plandemic indoctrination to extract money, crush small-to-medium sized businesses, and condition people to obey unconstitutional orders, rather than about protecting the public health.
Facing this new era of even greater impositions of tyranny, businesses, peaceful group assemblies, and individuals are coming together and seeking answers to the assault on their livelihoods and liberties.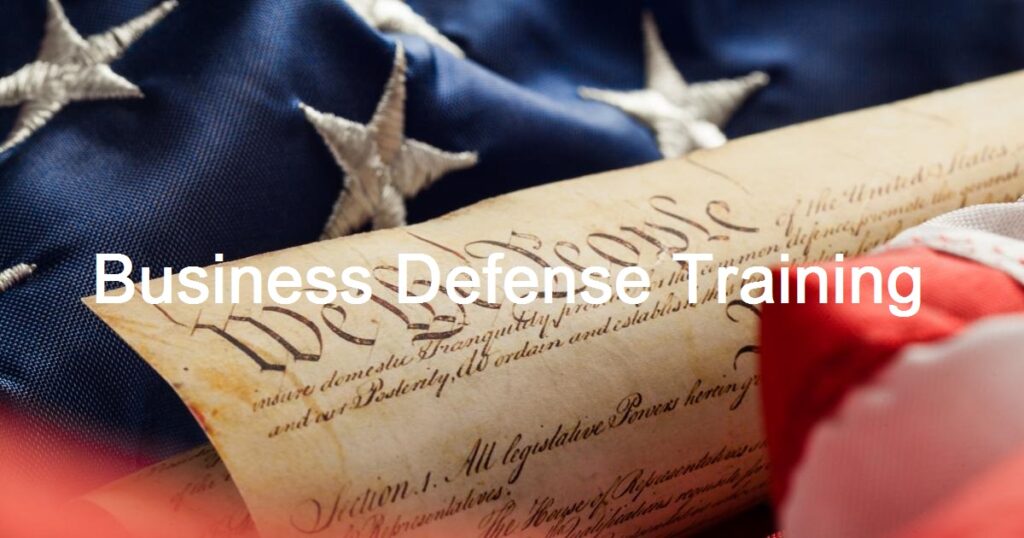 In this live seminar, you will acquire key points of law and strategies for defending your business or association. You will also meet like-minded business leaders, defenders of liberty, and customers seeking to patronize establishments that are fully open. You will emerge empowered, having gained a fresh perspective, access to vital resources, and support from people that have been fighting tyranny for decades.
Seminars are scheduled in cities that have high demand, and attendance is allowed on a first-come/first-served basis. The full $249 entry fee for the entire experience includes refreshments and 30 minutes of free consultation ($150 value) within 12 months of taking the class.
Business Defense Training
(Date to be determine)
12 Noon to 5 PM
(Private location disclosed to registrants)
Discounts
Couples
To encourage business partners to attend together, a $50 discount is being extended to those who buy the "Couples" ticket.
Cash Payers
Purchase your ticket with cash at least three days before the event and your price for entry will be slashed to $175. Your cash payment can be delivered in person or by postal mail and must be received no later than three days before the seminar. Contact freedom@passagetoliberty.com to arrange this method of payment.